Tanks Direct tanks are packed with features:
Guaranteed one piece
Roofs not cut off for transportation
Ribbed side walls
Greater structural integrity
Self-supported roofs
No internal poles or frames
No vertical side seams
Tanks won't split or crack
Food-grade polyethylene
For safe drinking water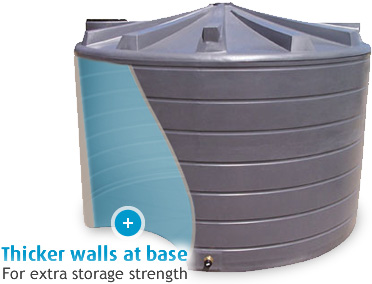 Not all polyethylene tanks are the same!
Our water tanks offer superior quality and value.
Guaranteed One-Piece Construction
Tanks Direct offers a money-back guarantee that our tanks are moulded in one piece and are transported in one piece, ensuring a stronger tank and cleaner tank interior when delivered.
Ribbed Side Walls
Tanks Direct tanks have ribbed side walls for extra strength and to help support the sides of the tank when full. Tanks Direct tanks are manufactured from food grade polyethylene and meet the strict Australian Standards for food (2070) and water (2040) storage.
Self-supported Roofs
Tanks Direct tanks have a fully self-supporting roof. Some tank manufacturers have a pole or frame in their larger tanks to hold up the roof. This pole sometimes pushes through the top of the tank (or even the bottom) and allows vermin to get into the tank.
No Vertical Side Seams
Another important feature of our range is that our mould join line is in a horizontal position and at the top of our tank, where there is no water pressure, ensuring that there are no potential weak points. The mould join lines in some other tanks are in the vertical position that runs all the way down the sides and across the bottom of the tank where there is maximum water pressure. This can cause the tank to split or crack.