Correct site preparation is a must before installing your new Tanks Direct tank and we stress the importance of this to ensure the lasting lifespan of the tank.
Below are the correct installation procedures for siting your tank, using the following:
Concrete slab
Tank stand
Above ground on a base of compacted crusher dust to a depth of 100mm.
The above sites must be level and greater than the diameter of the tank. All ground-based tanks should be back-filled with a minimum of 30cm (1ft) of soil to help prevent undermining the base.
Upon delivery of your tank, it is important that it is secured. Tie down the tank. Your tank is fully guaranteed when sited correctly.
Please see Recommended Site Installation Instructions, or simply contact us directly if you have any further queries regarding the installation of your tank.
Site Installation Sheet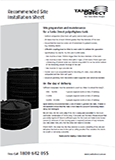 Note: All tanks are swept and vacuumed before leaving the factory. Shavings and small pieces are sometimes missed due to the static holding them on the side walls, etc. The only way to fully clean the tank to your satisfaction is to wash out and fully drain it once the tank has been correctly sited.